Introduction:
Welcome to Torre Lorenzo's Tierra Dava0 –  Crown Residences, an esteemed high-end condo development that combines luxury living with affordability. We are proud to offer a remarkable opportunity to elevate your lifestyle without the burden of a spot downpayment. Through BahaySaPinas.com we offer monthly payments as low as $226, Tierra Davao Crown Residences sets a new benchmark for accessible luxury in the heart of this vibrant city.
Prime Location: Embrace the Best of Davao
Nestled in a prime location in Davao City, Tierra Davao Crown Residences puts you in the center of the city's thriving pulse. Enjoy the convenience of being close to major commercial centers, esteemed educational institutions, world-class healthcare facilities, and an abundance of entertainment options. Discover the vibrant culture, indulge in exquisite dining experiences, and immerse yourself in the exciting events that define Davao City as a metropolis on the rise.
Luxurious Living Spaces: Affordable Elegance
Tierra Davao Crown Residences offers a range of thoughtfully designed living spaces that embody elegance and comfort. Our luxurious units include stylish studios, spacious one-bedroom apartments, sophisticated two-bedroom residences, and opulent penthouses. Each unit showcases high-quality finishes, premium fixtures, and expansive windows that bathe the interiors in natural light, providing breathtaking views of the cityscape. Experience the epitome of affordable luxury at Crown Residences Davao City.

Exquisite Amenities: Unmatched Indulgence
Indulge in a wealth of exquisite amenities that await you at Tierra Davao Crown Residences. Our development boasts an inviting swimming pool where you can take a refreshing dip and bask in the sun. Relax and rejuvenate in the serene ambiance of our landscaped gardens, offering a tranquil escape from the bustling city. Maintain an active lifestyle in our state-of-the-art fitness center, fully equipped with modern exercise facilities. Tierra Davao Crown Residences provides unmatched indulgence at an incredibly affordable price.
Unmatched Services: Personalized Attention at Your Convenience
At Tierra Davao Crown Residences, we prioritize delivering exceptional services to our valued residents. Our professional and attentive staff are dedicated to ensuring every aspect of your living experience is taken care of. From 24-hour security to dedicated concierge services, your safety, security, and convenience are our top priorities. We offer valet parking, housekeeping services, and personalized assistance to cater to your needs. Tierra Davao Crown Residences goes the extra mile to make your life effortless and enjoyable.
Investment Potential: Affordable Opportunity, Promising Returns
Tierra Davao Crown Residences not only offers luxurious living but also presents an excellent investment opportunity. With its prime location, impeccable amenities, and the city's continuous growth, investing in Crown Residences is a wise financial decision. Our affordable pricing and flexible payment terms ensure accessibility for investors looking to secure a valuable asset with the potential for long-term appreciation and attractive rental income. Take advantage of this affordable opportunity to make a smart investment in Tierra Davao Crown Residences.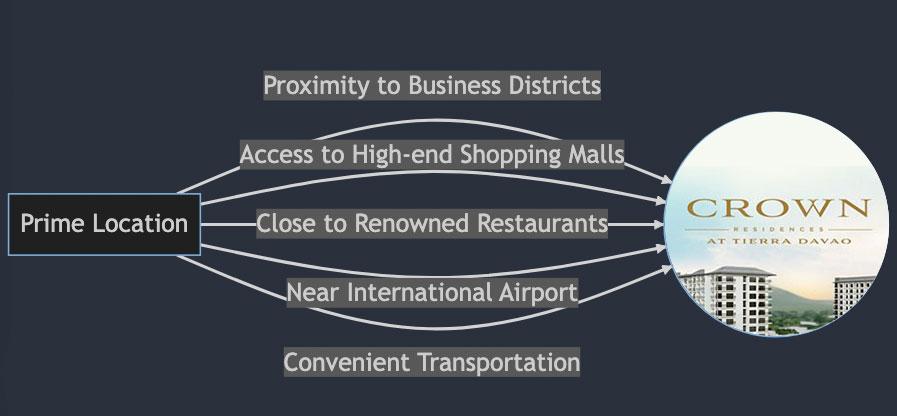 Conclusion: Tierra Davao Crown Residences – Affordable Luxury Redefined
In conclusion, Tierra Davao Crown Residences is a high-end condo development that redefines affordable luxury. Our promotion through BahaySaPinas offers the "no-spot downpayment" and monthly payments as low as $226 making it accessible for individuals seeking an elevated lifestyle. With its prime location, elegant living spaces, lavish amenities, personalized services, and excellent investment potential, Tierra Davao Crown Residences stands as a testament to the perfect balance between luxury and affordability. Elevate your lifestyle and immerse yourself in the pinnacle of affordable luxury at Tierra Davao Crown Residences, where dreams become reality at an irresistible
Notes: Open House
Please take note that Torre Lorenzo's marketing representative will be touring all over the US with the help of BahaySaPinas CORE Groups.
We are holding our 2nd presentation on May 27, 2023, the group will be at 2608 Spring Rd., Vallejo CA 94591.
Please call Bernadette Pomar to RSVP at (707)862-4088.